Wuxi Geotec Geological Equipment Co.,Ltd.
No.113,Jiao Shan Road,Yangjian Machinery Industrial Park, Xishan, Wuxi, Jiangsu, China
Tel:+86-510-88552380
Fax:+86-510-88552380
E-mail:info@coredrillchina.com
Website:
www.coredrillchina.com
Introduction
Barrel reamers are used to condition an existing hole and are usually sized a couple inches under gauge. It is suitable for larger HDD rigs, coming with API threads and back cutters for back or forward reaming. This type of drill reamer is ideal for sand and loam soil conditions and can be used for stacking with fly cutter of hole opener. It can also be used by itself for cleaning pre-reamed holes and pulling in the product.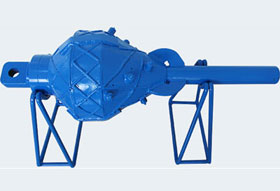 Barrel Reamer
Connection Modes for Barrel Reamer
1) Connection with drill rod: a. Octagonal connection; b. Direct connection with drill rod
2) Connection with pipe: With or without swivel
In addition to this drill reamer, we also offer ripper reamer, fluted reamer and fly cutter reamer or winged reamer. Geotec Geological Equipment is also able to supply custom barrel reamers to fit your needs. Let us know:
1. Drill pipe connection and size
2. The diameter of the tool
3. Jets sizes to match pump and cleaning capabilities (G.P.M.)
4. Whether the tool will be used in a pull or push situation.
Wuxi Geotec Geological Equipment Co., Ltd. is a professional manufacturer and supplier of drill reamers in China. Through over 20 years' production experience, marketing and service experience, we have gained the recognition of a large number of clients both home and abroad. In addition to barrel reamers, our company also provides HDD drill pipe, saver sub, drill bit, pulling swivel, hoisting plug, cutter head, and so on.
Our products have obtained ISO9001:2000 authentication for quality management system and member certificate of China Mning Association. Our drill reamers have been widely exported to America, United Kingdom, France, Canada, Australia, New Zealand, Indonesia, India, Russia, Malaysia, Thailand, Mongolia, Pakistan, etc. If you want to buy our barrel reamers, please feel free to contact us. We are sincerely looking forward to cooperating with you.

Related products
XY-8 Core Drill Machine
The XY-8 core drill machine installs sub-surface fabrications, such as underground utilities, tunnels or wells ...

YDX-6 Core Drilling Rig
The YDX-6 core drilling rigs are reasonable in design, excellent in performance, easy for operation ...