Wuxi Geotec Geological Equipment Co.,Ltd.
No.113,Jiao Shan Road,Yangjian Machinery Industrial Park, Xishan, Wuxi, Jiangsu, China
E-mail:info@coredrillchina.com
Website:
www.coredrillchina.com
The YDX-3A trailer mounted rig is specially designed for wire line diamond drilling. Modularized design makes the rig easy to break down and put together, facilitating transportation to most inaccessible areas. Robust structure plus strong power ensures high penetration rate and out standing reliability. Its full hydraulic concept includes virtually all operation functions that prevail on the latest models around the world.
Main Features of YDX-3A Trailer Mounted Rig
1. 4 shift gear box provides wide choice of torque and rotation rate;
2. Max chuck diameter of 117mm applies BQ to PQ size rods;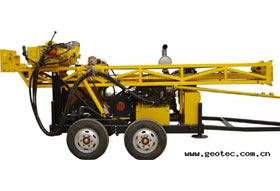 YDX-3A Trailer Mounted Rig
3. Long stroke of 3.5m increases efficiency and recovery percentage, reducing in-hole risk;
4. Mast dump function guarantees perfect stability;
5. Independent hydraulic jack provides great convenience;
6. Precise control of pressure on drill bit
7. Standardized parts and components make maintenance and repairing easy;
8. Real time reading of drilling data on gauges on the control panel;
9. Mud pump and mixer powered by the trailer mounted rig's hydraulic system, controlled directly on the rig's panel;
10. European top grade hydraulics
11. Experienced engineers plus adequate spare parts ready to provide full service.
Technical Parameters of YDX-3A Trailer Mounted Rig
Capacity
Rod Size
Depth
Rod Size
Depth
55.5mm
1,300m
89mm
700m
75mm
1,000m
114mm
400m
               Power Pack
Diesel
Cummins 6BTA
Displacement
5.9L
Cylinder
6
Type
Turbo Charge
Cooling
water
Power
132Kw @ 2,500rpm
               Hydraulic System
Working Pressure
25MPa
Cooling
Air
          Rotary Head
Max Torque
506-4,257KNM
Max Chuck Dia
117mm
Gear Box
4 shifts
RPM
1 shift 138 - 190rpm
2 shift 277 - 378rpm
3 shift 495 - 675rpm
4 shift 866 - 1,200rpm
               Main Winch
Pull
5,500Kg (bare drum)
Speed
51m/min (bare drum)
Rope Dia
16mm
Rope Length
30m
             Wire Line Winch
Pull
1,100Kg (bare drum)
Speed
110m/min (bare drum)
Rope Dia
5mm
Rope Length
1,500m
              Mast
Two Sections
9m
Up and Down
hydraulic driven
Mast Dump
1m
Max Angle
45degree
Push
5,540Kg
Pull
9,313Kg
Stroke
3,500mm
Chuck of Rotary Head
Spring Force Close
hydraulic open
Max Dia of Chuck
117mm
Gross Weight
4,700Kg
We are a professional trailer mounted rig manufacturer and supplier in China. We have gained the recognition of a large number of clients through our 20 years' production experience and marketing and serving experience, and meanwhile we have accumulated abundant experience in terms of products. At the same time, we keep researching trailer mounted rigs that can better meet the clients' needs and the market. Our trailer mounted rig has been exported to South America, Africa, East Europe, Southeast Asia, and Middle East. We have clients in America, United Kingdom, France, Canada, Australia, New Zealand, Philippines, Indonesia, India, Chile, Brazil, Russia, Algeria, Morocco, Malaysia, Thailand, Pakistan, Mongolia etc. Located in Wuxi, near Shanghai, the biggest port city of China, we are provided with convenient transportations of any kind, by land, sea or air, which will greatly reduce your transportation cost. To meet the clients' different demands, we can provide all kinds of geological drilling tools, such as diamond core bits (synthetic natural), reaming shells PDC bits, core barrels overshot, drill rods. If you need trailer mounted rig, please contact us.
Related products
Spindle Core Drilling Rig
The XY-6B spindle core drilling rig is a mechanical transmit and hydraulic feeding spindle core drilling machine. ...

XY-5 Core Drill Rig
The XY-5 core drill rig is a new type of core drill which is developed especially to meet the need of various drilling process ...