Wuxi Geotec Geological Equipment Co.,Ltd.
No.113,Jiao Shan Road,Yangjian Machinery Industrial Park, Xishan, Wuxi, Jiangsu, China
E-mail:info@coredrillchina.com
Website:
www.coredrillchina.com
The YDX-6 core drilling rigs are reasonable in design, excellent in performance, easy for operation and convenient for maintenance.
Main Features of YDX-6 Core Drilling Rig:
The core drilling rig equipped with tracks, has a hydraulic driving system. It owns a brief but advanced structure, with its power head driven by a variable motor and its speed adjustable for 2 gears. With the oil cylinder working with a speed-changeable chain, its performance is stable and reliable. The mast is adjustable in the range from 0° to 90° to ensure a proper hole-drilling angle. The low gravity center of the rig promises a steady operation. And it provides the operators with a convenient and comfortable working circumstance with a wide view.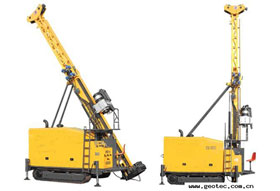 YDX-6 Core Drilling Rig
In short, the core drilling rig has a beautiful outline and shows a people-oriented design idea.
1) Reliable Quality
The main parts and auxiliary equipment, including the engine, diesel engine, hydraulic pump, gear reducer and some key valves and hydraulic accessories, are all products with well-known brands.
2) High Efficiency
Big torque, powerful driving force, rational and practical design, advanced controlling mode and a 6-meter-long drilling rod guarantee the high operation efficiency of the core drilling rig.
3) Environmental Protection
The diesel engine is professionally designed to reduce noise and other contamination (The noise can not be over 72db), which makes the rig proper to be operated in urban areas.
4) Energy Saving
The advanced technique of loading-sensor-controlling helps the rig reduce its consumption of driving force and heat discharge to the minimum extent.
YDX-6 core drilling rig has an outstanding external appearance, a compacted structure, a reliable function, and a flexible operating system. All these factors have made the rig the best choice among the same products in the domestic market.
Application Range of YDX-6 Core Drilling Rig: YDX-6 core drilling rig can be applied to both slant and vertical drilling. Being a rig equipped with diamond and the carbide alloy drilling, it can be used in the fields of geology, metallurgy, coal mining, nuke industry and hydrology measuring.
Technical Parameters of YDX-6 Core Drilling Rig:
Hole Depth (meters)
Drilling Capacity
HWT/PQ: 1000 meter HRQHP/HQ: 1300 meter NRQHP/NQ: 1600 meter BRQHP/BQ: 2000 meter
Prime mover
Standard Unit
Cummins 6CTA (turbocharged and charge water cooled)
Displacement
8.3L
Power (Maximum)
178kW(240hp)
Rated RPM(Factory setting)
1,900
TORQUE AND RPM RATINGS
(Hydraulic motor at maximum/minimum displacement, prime mover at 2,200 rpm)
Rpm
Nm
1st Gear
144-420
6400-1670
2ndGear
520-1100
1380-600
HYDRAULIC SYSTEM
Primary Pump
Hydraulic pump: Axial Piston variable displacement Triplex pump for driving of rotator, winch mud pump & leveling jacks. With load sensing system. Maker DANFOSS II Pump, Gear type: 40 LPM at 300 Bar.
Secondary Pump
Axial Piston variable displacement duplex pump feeding oil for hydraulic Cylinder and control system. With load sensing system Make, Changyuan Hydraulic II Pump, Gear type: 30 LPM at 300 Bar.
Hydraulic Tank
Capacity
420 L
DRILL HEAD
Rotation Motor
Double Huade Hydraulic Motor-variable/Reversible Maker: SAUER-DANFOSS
Mechanical Transmission
Funk 2 speeds
Ratios
1st8.776:1 2nd2.716:1
Head Opener
Pivoting style, Manual actuated
Hydraulic Chuck(PQ)
Hydraulically opened, Disc Spring Clamping, Normally C Closed Type
Axial Holding Capacity of222 400 N
Hold Diameter
121mm
DRILL MAST AND FEED SYSTEM
Mast Height
10m
Slippage Stroke
1100mm
Feed Stroke Length
3200 mm
Feed Pull
30000kg
Feed Thrust
30000kg
Rod Pull
3m or 6m
Mast Adjusting Angle
0-90o
Drilling Angle
45o off horizontal to 90overtical down
DRAW WORKS
Main Line Winch – driven with parallel motors
Hook Load (single part line) Bare Drum
12000kg
Hoisting Speed (single part line) Bare Drum
38-70m/min
Main Line Winch Cable Dia
21.5mm
Main Line Winch Cable Length
50m
Wireline Hoist
Line Pull Bare Drum
1500kg
Line Speed Bare Drum
38-70m/min
Wireline Hoist Cable Dia
6.3mm
Wireline Hoist Cable Length
2000m
Mud Pump
Type
Reciprocating pump Triplex Plunger
Stroke
110mm
Output volume (l. p. m)
320,230,165,118
Discharge pressure (Mpa)
4.0,5.0,6.0,8.0
Dimensions and Weight
Dimensions (for transportation)
5900×2240×2500mm (L×W×H)
Weight
9600kg
We are a professional core drilling rig manufacturer and supplier in China. We have gained the recognition of a large number of clients through our 20 years' production experience and marketing and serving experience, and meanwhile we have accumulated abundant experience in terms of products. At the same time, we keep researching core drilling rigs that can better meet the clients' needs and the market. Our core drilling rig has been exported to South America, Africa, East Europe, Southeast Asia, and Middle East. We have clients in America, United Kingdom, France, Canada, Australia, New Zealand, Philippines, Indonesia, India, Chile, Brazil, Russia, Algeria, Morocco, Malaysia, Thailand, Pakistan, Mongolia etc. Located in Wuxi, near Shanghai, the biggest port city of China, we are provided with convenient transportations of any kind, by land, sea or air, which will greatly reduce your transportation cost. To meet the clients' different demands, we can provide all kinds of geological drilling tools, such as diamond core bits (synthetic natural), reaming shells PDC bits, core barrels overshot, drill rods. If you need core drilling rig, please contact us.
Related products