The wireline winch is the most commonly used wireline core drilling part in drilling field. It is suitable for deep mining and exploration drilling. It designs with powerful electric drive. Wireline winch comes in different sizes providing more flexibility for our clients. We can customize the winches based on the client needs.
Specifications of Wireline Winch
Hole Diameter: 46~95mm
Max. Hole Depth: 1000~1500m
Winch Size: 1180×785×980mm (L×W×H)
Weight: 205Kgs (without power)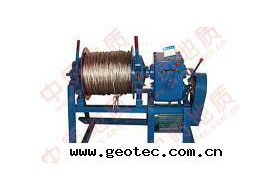 Wireline Winch
We are a professional wireline winch manufacturer and supplier in China. We have gained the recognition of a large number of clients through our 20 years' production experience and marketing and serving experience, and meanwhile we have accumulated abundant experience in terms of products. At the same time, we keep researching wireline winchs that can better meet the clients' needs and the market. Our wireline winchs have been exported to South America, Africa, East Europe, Southeast Asia, and Middle East. We have clients in America, United Kingdom, France, Canada, Australia, New Zealand, Philippines, Indonesia, India, Chile, Brazil, Russia, Algeria, Morocco, Malaysia, Thailand, Pakistan, Mongolia etc. Located in Wuxi, near Shanghai, the biggest port city of China, we are provided with convenient transportations of any kind, by land, sea or air, which will greatly reduce your transportation cost. To meet the clients' different demands, we can provide all kinds of geological drilling tools, such as diamond core bits (synthetic natural), reaming shells PDC bits, core barrels overshot, drill rods. If you need them, please contact us.
Related products
Rod Tap
The rod tap uses the high quality alloy steel material with the advantages of high strength, high toughness and ...

Foot clamps
The foot clamps are most useful in mining. They are utilized with replaceable carbide steel jaws to hold the drill string ...