Wuxi Geotec Geological Equipment Co.,Ltd.
No.113,Jiao Shan Road,Yangjian Machinery Industrial Park, Xishan, Wuxi, Jiangsu, China
E-mail:info@coredrillchina.com
Website:
www.coredrillchina.com
Description
Wuxi Geotec Geological Equipment Co., Ltd. is a professional manufacturer and supplier of cutter heads in China. Through more than 30 years' production experience, marketing and service experience, we have gained the recognition of a large number of customers both home and abroad. Our drilling tools have been widely exported to America, United Kingdom, France, Canada, Australia, New Zealand, Indonesia, India, Russia, Malaysia, Thailand, Mongolia, Pakistan, etc.  Users can select different cutting heads according to different geological conditions so as to improve cutting efficiency of the reamer.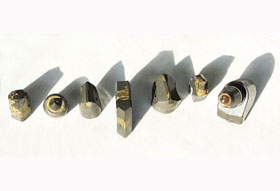 Cutter Head
Related Products
1. HDD Drill Pipe
2. Drill Collar
3. Saver Sub
4. HDD Pulling Swivel
5. Hoisting Plug
6. HDD Drill Bit
7. Drill Reamer
In addition to this kind of drilling tool, Wuxi Geotec Geological Equipment Company also supplies diamond core bits, core barrels, rod taps, and so on. Our products including cutting heads have obtained ISO9001:2000 authentication for quality management system and member certificate of China Mning Association. Located in Wuxi, near Shanghai, the biggest port city of China, we enjoy convenient transportations of any kind, by land, sea or air, which will greatly reduce your transportation cost. If you want to buy our drilling tools, please contact us freely. We are looking forward to cooperating with you.
Related products
Heavy Duty Pipe Wrench
The heavy duty pipe wrench is one of many top quality items in Geotec Company. It is made of quality cast iron ...

Water Swivel
The water swivel is one of many top quality items in Geotec Company. Water swivel is made of pressure-sealed ball ...