Wuxi Geotec Geological Equipment Co.,Ltd.
No.113,Jiao Shan Road,Yangjian Machinery Industrial Park, Xishan, Wuxi, Jiangsu, China
E-mail:info@coredrillchina.com
Website:
www.coredrillchina.com
Description
In the context of a drill string, a saver sub is a threaded coupling under the kelly to which the joints of drill sting are made up. It can reduce wear on the kelly threads. This type of trenchless equipment adopts high quality structural alloy steel that is heat-treated for maximum durability. As a professional manufacturer and supplier of trenchless tools in China, Geotec Geological Equipment is able to supply customized sizes of saver subs according to customers' horizontal directional drilling requirements.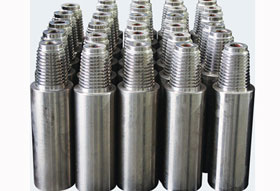 Saver Subs
Feature
This kind of trenchless equipment is expendable and does not represent a major investment. However, the kelly or topdrive component threads are spared by use of a saver sub, and those components represent a significant capital cost and considerable downtime when replaced.
Established in 1980s, Wuxi Geotec Geological Equipment Co., Ltd. specializes in producing trenchless equipment, drill rods, diamond drill bits, core barrels, drill rigs, and other drilling tools. Through more than 20 years' production experience and marketing experience, we have gained the recognition of a large number of clients both home and abroad. Our saver subs have been widely exported to America, United Kingdom, France, Canada, Australia, New Zealand, Indonesia, India, Russia, Malaysia, Thailand, Mongolia, Pakistan, etc. If you have interest in our trenchless equipment, please feel free to contact us. We are looking forward to cooperating with you.


Related products