The heavy duty pipe wrench is one of many top quality items in Geotec Company. It is made of quality cast iron make pipe wrench more durable and corrosion-resistant. Heavy duty pipe wrench widely is used to plumb and explore oil projects. Our pipe wrench can turn or hold smooth cylindrical objects. We put double fast jaw on the pipe wrench to ensure its fast and ratchet-like action in either direction. It can also turn iron pipes and fittings and so on.
Features of Heavy Duty Pipe Wrench
(1) Self-cleaning threads,
(2) Malleable iron handle
(3) Long service time.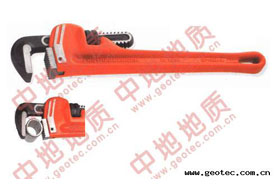 Heavy Duty Pipe Wrench
We supply 18", 24", 36" and 48" heavy duty pipe wrench. Our products use the international standard material. Custom sizes are always available. Any of the further information, please contact us.
We are a professional heavy duty pipe wrench manufacturer and supplier in China. We have gained the recognition of a large number of clients through our 20 years' production experience and marketing and serving experience, and meanwhile we have accumulated abundant experience in terms of products. At the same time, we keep researching heavy duty pipe wrench that can better meet the clients' needs and the market. Our heavy duty pipe wrenchs have been exported to South America, Africa, East Europe, Southeast Asia, and Middle East. We have clients in America, United Kingdom, France, Canada, Australia, New Zealand, Philippines, Indonesia, India, Chile, Brazil, Russia, Algeria, Morocco, Malaysia, Thailand, Pakistan, Mongolia etc. Located in Wuxi, near Shanghai, the biggest port city of China, we are provided with convenient transportations of any kind, by land, sea or air, which will greatly reduce your transportation cost. To meet the clients' different demands, we can provide all kinds of geological drilling tools, such as diamond core bits (synthetic natural), reaming shells PDC bits, core barrels overshot, drill rods. If you need them, please contact us.
Related products
Water Swivel
The water swivel is one of many top quality items in Geotec Company. Water swivel is made of pressure-sealed ball ...

Wireline Winch
The wireline winch is the most commonly used wireline core drilling part in drilling field. It is suitable for deep ...