Wuxi Geotec Geological Equipment Co.,Ltd.
No.113,Jiao Shan Road,Yangjian Machinery Industrial Park, Xishan, Wuxi, Jiangsu, China
E-mail:info@coredrillchina.com
Website:
www.coredrillchina.com
Adopting the technology wire line coring, the full hydraulic drilling rig driven with rotator, has been the dominant type rig for solid mineral deposits prospecting. It is also the developing direction of drilling technique and drilling equipment in China. It could be used for exploration and prospecting of geology, metallurgy, coal, petroleum, natural gas, groundwater and other industries.
Main Technical Features of YDX-5C Full Hydraulic Drilling Rig
The main hydraulic pumps, valves and motors are all selected and put into use from famous international brands. There are two kinds of chassis for your selection and order. One is tyre-traction (with steering gear); another is self-propelled steel crawlers.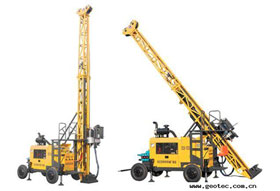 YDX-5C Full Hydraulic Drilling Rig
The rig equipped with hydraulic supports; adopting hydraulic cylinder for lifting/lowering. The mast can be folded for its transport and location. With foot clamp touching the earth, the mast could work stably; The hydraulic system adopts load sensitive system;The rig is also equipped with high-position operation platform and operation hole platform (i.e. low-position operation platform). The rotator is fed and driven with a system connecting the spindle and oil cylinder with chain. The system has the function, if the piston rod of oil cylinder moves one certain distance, the spindle will double the distance. The rotator has a long stroke. The rotator is driven by a single motor for its rotation. It is equipped with a four-speed gear shift, and its speed could be adjusted by hydraulic pressure with stepless speed change. Our full hydraulic drilling rig is also equipped with centering guide in its up part and guide in its lower part. A hydraulic clamp is adopted at the operation hole of the lower platform.
Main Technical Parameter of YDX-5C Full Hydraulic Drilling Rig
Hole Depth (meters)
Drilling Capacity
HWT/PQ: 680 meter HRQHP/HQ: 1000 meter NRQHP/NQ: 1300 meter BRQHP/BQ: 1500 meter
Prime Mover
Standard Unit
Cummins 6CTA8.3-C195 (turbocharged and charge water cooled)
Displacement
8.3L
Power (Maximum)
145kW(198hp)
Rated RPM (Factory setting)
1,900 rpm
Torque and Rpm Ratings
(Hydraulic motor at maximum/minimum displacement, prime mover at 2,200 rpm)
Rpm
Nm
Low-speed Gear
125-360
4150-1600
High-speed Gear
395-1050
1450-550
Hydraulic System
Primary Pump Package
Axial Piston variable displacement Triplex pump for driving of Drill Head Rotation, Main Hoist, Mud Pump & Line Winch. Maker: SAUER-DANFOSS
1st Pump: 150LPM at 28.5MPa 2nd Pump: 120LPM at 25MPa 3rd Pump:  102 LPM at 25MPa
Side Pump Package
Duplex gear pumps feeding oil for hydraulic outriggers,upper and foot clamps, Drill Head Rotation and main hoist following, Rotator floating control system. Maker: Changyuan Hydraulic 1st Pump: 12LPM at 20MPa 2nd Pump: 8LPM at 10MPa
Hydraulic Tank
Capacity
420 L
Drill Head
Rotation Motor
Double Hydraulic Motor-variable/Reversible Maker: SAUER-DANFOSS
Mechanical Transmission
Funk 2 speeds
Ratios
1st8.776: 1 2nd2.716: 1
Head Opener
Pivoting style, Manual actuated
Hydraulic Chuck(PQ)
Hydraulically opened, Disc Spring Clamping, Normally Closed Type
Axial Holding Capacity of222 400N
Hold Diameter
121mm
Drill Mast And Feed System
Mast Height
10.3m
Slippage Stroke
1100mm
Feed Stroke Length
3200 mm
Feed Pull
15000kg
Feed Thrust
7500kg
Rod Pull
3m or 6m
Mast Adjusting Angle
0o - 90o
Drilling Angle
45o - 90o
Draw Works
Main Line Winch – driven with parallel motors
Hook Load (single part line) Bare Drum
7700kg
Hoisting Speed (single part line) Bare Drum
38-70m/min
Main Line Winch Cable Dia
18mm
Main Line Winch Cable Length
50m
Wire-line Hoist  
Line Pull Bare Drum
1200kg
Line Speed Bare Drum
164 m/min
Wire-line Hoist Cable Dia.
6mm
Wire-line Hoist Cable Length
1500m
Mud Pump 
Type
Reciprocating Pump Triplex Plunger
Stroke
100mm 250, 145, 90, 52
Output volume (l. p. m)
Discharge pressure (Mpa)
2.5, 4.5, 6.0, 6.0
Dimensions And Weight  
Dimensions (for transportation)
5600×2240×2650mm (L×W×H)
Weight
7000kg
We are a professional hydraulic drilling rig manufacturer and supplier in China. We have gained the recognition of a large number of clients through our 20 years' production experience and marketing and serving experience, and meanwhile we have accumulated abundant experience in terms of products. At the same time, we keep researching full hydraulic drilling rigs that can better meet the clients' needs and the market. Our full hydraulic drilling rig has been exported to South America, Africa, East Europe, Southeast Asia, and Middle East. We have clients in America, United Kingdom, France, Canada, Australia, New Zealand, Philippines, Indonesia, India, Chile, Brazil, Russia, Algeria, Morocco, Malaysia, Thailand, Pakistan, Mongolia etc. Located in Wuxi, near Shanghai, the biggest port city of China, we are provided with convenient transportations of any kind, by land, sea or air, which will greatly reduce your transportation cost. To meet the clients' different demands, we can provide all kinds of geological drilling tools, such as diamond core bits (synthetic natural), reaming shells PDC bits, core barrels overshot, drill rods. If you need them, please contact us.
Related products
YDX-3A Trailer Mounted Rig
The YDX-3A trailer mounted rig is specially designed for wire line diamond drilling. Modularized design makes the ...

Spindle Core Drilling Rig
The XY-6B spindle core drilling rig is a mechanical transmit and hydraulic feeding spindle core drilling machine. ...