The impregnated diamond bits are the most commonly useful bits in the mineral exploration industry, as impregnated diamond bits have the widest range of application. The carefully selected grades of high quality synthetic diamond are distributed in the depth of impregnated bit's matrix series. The matrix layer of the crown contains a uniform distribution of these crystals that are embedded in a powdered metal bond.
The matrix of our impregnated diamond bits is designed to expose new diamonds to the bits' cutting face as wear occurs. Fast penetration rate is maintained as a result of this action.
Our impregnated diamond bits are manufactured to give optimum penetration rates and bit life, which is required to keep the cost of diamond drilling to a minimum.
Our impregnated bit HQ3 NF3-4, used in a diamond core drilling project in Armenia, has broken a world record, for it drilled nine holes up to 1533.5 meters of depth and was used for periods up to 2 months. This geological exploration project, taken by Armenia Major Drilling Group, used our bits for drilling basalt (abrasive) sedimentary shale and siltstone (non-abrasive), whose hardness is medium to soft(Refer to Details).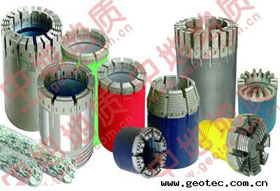 Impregnated Diamond Bits
The optimum diamond size, concentration and matrix type are dependent on the hardness and abrasiveness of the formation to be drilled. When order, please read Matrix Selection Guide.
Size Available :
"Wireline" series: A, B, N, H, P/ATK, BTK, B3, N2, N3, NTT, H3, HTT, P3, PTT
T2 series: T2 46, T2 56, T2 66, T2 76, T2 86, T2 101
T6 series: T6 76, T6 86, T6 101, T6 116, T6 131, T6 146, T6S 101, T6S 116
T series: T36, T46, T56, T66, T76, T86
Z series: Z46, Z56, Z66, Z76, Z86, Z101, Z116, Z131, Z146
B series: B36, B46, B56, B66, B76, B86, B101, B116, B131, B146
WF series: HWF, PWF, SWF, UWF, ZWF
WT series: RWT, EWT, AWT, BWT, NWT, HWT
WM series: EWM, AWM, BWM, NWM, HWM
WG series: EWG, AWG, BWG, NWG, HWG
Others: NMLC, HMLC, LTK48, LTK60, BGM, NGM, ADBG, TBW, TNW, ATW, BTW, NTW, NXD3, EX, AX, BX, NX, NXC, EXT, AXT, EXU, AXU, NXU, T6H, 49/16, NWD4, 412F, SK6L 146, K2-101, K2-116, TT46, TB56, TS116, CHD101
All Chinese Sizes
Impregnated bit matrix selection guide
The optimum diamond size, concentration and matrix type are dependent on the hardness and abrasiveness of the formation to be drilled. When order, please read matrix selection guide.

| | | | | |
| --- | --- | --- | --- | --- |
| Rock Type | Abrasiveness | Rock Hardness | Item. No | Color |
| Clay, Shale, Siltstone, Gypsum | Medium | Soft | NF1# | |
| Ash Stone, Coal, Argillite, Volcanics, Sandly Pebble | Medium | Soft | NF1/ NF2 | |
| Sandstone, sandness shale,lithoid limestone, limonite stone | High | Medium Soft | NF1#/ NF2 | |
| Medium-hard limestone, medium-hard shale, medium-hard ash stone | Abrasive | Medium | NF3/ NF4 | |
| Marble, hard schist, hard streak stone | High | Medium | NF5/ NF6/ NF7 | |
| Diabase, andesite, gneiss | Medium | Medium Hard | NF6/ NF7 | |
| Grandiorite, limonite | Medium | Medium Hard | NF7/ NF8 | |
| Granite, basalt, hard streak stone | Medium To Low | Hard | NF8/ NF9 | |
| Rhyolite, crystauize genesis, quartz porphyry | Medium To Low | Hard | NF9/ NF10 | |
| Silicious stone, hard sandstone | Medium To Low | Extreme Hard | NF11/ NF12 | |
| Rhyolite, dense quartzite, lron stone | Low | Ultra Hard | NF14 | |
We are a professional impregnated diamond bits manufacturer and supplier in China. We have gained the recognition of a large number of clients through our 20 years' production experience and marketing and serving experience, and meanwhile we have accumulated abundant experience in terms of products. At the same time, we keep researching impregnated diamond bits that can better meet the clients' needs and the market. Our impregnated diamond bits have been exported to South America, Africa, East Europe, Southeast Asia, and Middle East. We have clients in America, United Kingdom, France, Canada, Australia, New Zealand, Philippines, Indonesia, India, Chile, Brazil, Russia, Algeria, Morocco, Malaysia, Thailand, Pakistan, Mongolia etc. Located in Wuxi, near Shanghai, the biggest port city of China, we are provided with convenient transportations of any kind, by land, sea or air, which will greatly reduce your transportation cost. To meet the clients' different demands, we can provide all kinds of geological drilling tools, such as diamond core bits (synthetic natural), reaming shells PDC bits, core barrels, drill rods. If you need them, please contact us.
Related products
Reaming Shell
The reaming shell is set with natural or synthetic diamond, and it is used to couple the drill bit with the core barrel. Its ...

Surface-Set Diamond Bits
The surface-set diamond bits are set with a singular layer of natural or synthetic diamond utilizing a hard matrix ...