Wuxi Geotec Geological Equipment Co.,Ltd.
No.113,Jiao Shan Road,Yangjian Machinery Industrial Park, Xishan, Wuxi, Jiangsu, China
E-mail:info@coredrillchina.com
Website:
www.coredrillchina.com
The XD-5 core drilling machine is specially designed for earths surface coring operation of solid mineral reserves, and it is applicable to a great variety of high efficiency drilling process such as diamond rope sampling, impact gyration, directional drilling, counter-circle consecutive sampling and so on. Also XD-5 core drilling machine can be used in water well, anchoring drilling and engineering geology drilling technology. The principal machine contains trailer type chassis, diesel engine, hydraulic system, operating system, boring tower, main hoist, wireline coring winch, power unit, power unit feeding system and well head clamper. XD-5 hydraulic driven driller is controlled all by electro hydraulic, and the operation and control are concentrated and exact and convenient. As compared with traditional spindle type drill, efficiency and security of coring operation increase greatly.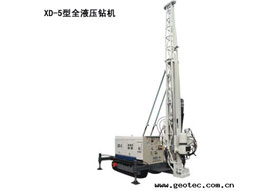 XD-5 Core Drilling Machine
Technical Parameters of YDX-5 Core Drilling Machine:
Sampling Task Depth
Drill Pipe Standard
Drilling Depth(m)
BQ (Φ55.5)
1650
NQ (Φ70)
1235
HQ (Φ89)
850
PQ (Φ114)
550
Windlass Hoisting Capacity
 
Main Windlass
Cord Windlass
Hoisting Capacity
single rope-free line drum >7700kg
free line drum 1200kg/full line drum 400kg
Hoisting Speed
free line drum 72m/min
--
Steel Cable Dimension
60m×18mm
1200m×7mm
 
1500m×5mm
Main Drill tower & propel system
Propel Stroke
3500mm
Propel Tempo
Fast & slow & speed change control
Propelling Power
4500kg
Elevating Power
13500kg
Drilling Angle
From 45 degree to 90 degree with level
Drill Pipe Elevating Length
6m
Power Station
Engine Manufacturer
Kang Ming Si
Type
6BTA5.9-C180
Power
132KW
Rotate Speed
2000 RPM, highest 2200 RPM
Engine Style
Turbocharging
Hydraulic System
Main Pump
190L/Min 25.5MPa
Subsidiary Pump
50L/Min 14MPa
Assistant Pump
40L/Min 15MPa
Hydraulic Oil Cooling
air cooling
Power Unit & Drill Shaft Rotary Speed
Dynamic Force
double speed /reversible hydraulic motor
Ultimately Drive
49/21
Revolution Axis Rotary Speed
Gear
Speed Ratio
Rotate Speed (rpm)
Torque(Nm)
1 level
6.38:1
119-193
5175-3187
2 level
3.49:1
218-353
2826-1743
3 level
1.82:1
418-678
1475-910
4 level
1:1
761-1234
761-500
Chuck Assembly
Type
Hydraumatic open, Spring close
Maximum Inside Diameter
117 or 127mm
Centre Gripping Capacity
20000kg
We are a professional core drilling machine manufacturer and supplier in China. We have gained the recognition of a large number of clients through our 20 years' production experience and marketing and serving experience, and meanwhile we have accumulated abundant experience in terms of products. At the same time, we keep researching core drilling machine that can better meet the clients' needs and the market. Our core drilling machine has been exported to South America, Africa, East Europe, Southeast Asia, and Middle East. We have clients in America, United Kingdom, France, Canada, Australia, New Zealand, Philippines, Indonesia, India, Chile, Brazil, Russia, Algeria, Morocco, Malaysia, Thailand, Pakistan, Mongolia etc. Located in Wuxi, near Shanghai, the biggest port city of China, we are provided with convenient transportations of any kind, by land, sea or air, which will greatly reduce your transportation cost. To meet the clients' different demands, we can provide all kinds of geological drilling tools, such as diamond core bits (synthetic natural), reaming shells PDC bits, core barrels overshot, drill rods. If you need core drilling machine, please contact us.
Related products