The surface-set diamond bits are set with a singular layer of natural or synthetic diamond utilizing a hard matrix compound on the face of the bit. The diamond set design ensures sufficient overlap to prevent premature wear of the matrix.
Surface set diamond bits are primarily recommended for use in drilling relatively soft, abrasive, unconsolidated formations that are not effectively drilled by impregnated diamond bits. They are also recommended for use in drilling harder formations where the available rotational speeds and bit loads are insufficient to use impregnated diamond bits due to drilling equipment limitations.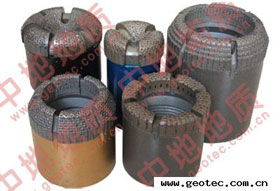 Surface-Set Diamond Bits
Surface-Set non-coring bits are drilling for broken formation rock which can't be cored. Crown is used to set with synthetic, natural or polycrystalline diamond. It's used for drilling in soft to medium hard formation rocks.
Size Available:
Q Series: AQ, BQ, NQ, HQ, PQ/AQTK, BQTK, BQ3, NQ2, NQ3, NQTT, HQ3, HQTT, PQ3, PQTT
T2 Series: T2 46, T2 56, T2 66, T2 76, T2 86, T2 101
T6 Series: T6 76, T6 86, T6 101, T6 116, T6 131, T6 146, T6S 101
T Series: T36, T46, T56, T66, T76, T86
Z Series: Z46, Z56, Z66, Z76, Z86, Z101, Z116, Z131, Z146
B Series: B36, B46, B56, B66, B76, B86, B101, B116, B131, B146
WF Series: HWF, PWF, SWF, UWF, ZWF
WT Series: RWT, EWT, AWT, BWT, NWT, HWT
WM Series: EWM, AWM, BWM, NWM
WG Series: EWG, AWG, BWG, NWG, HWG
Others: NMLC, HMLC, LTK48, LTK60, BGM, NGM, ADBG, TBW, TNW, ATW, BTW, NTW, NXD3, AX, NX, NXC, AXT, T6H, 4 9/16, NWD4, 412F, SK6L 146, TT46, TB56, TS116, CHD101
All Chinese sizes
We are a professional surface set diamond bit manufacturer and supplier in China. We have gained the recognition of a large number of clients through our 20 years' production experience and marketing and serving experience, and meanwhile we have accumulated abundant experience in terms of products. At the same time, we keep researching surface-set diamond bits that can better meet the clients' needs and the market. Our surface-set diamond bits have been exported to South America, Africa, East Europe, Southeast Asia, and Middle East. We have clients in America, United Kingdom, France, Canada, Australia, New Zealand, Philippines, Indonesia, India, Chile, Brazil, Russia, Algeria, Morocco, Malaysia, Thailand, Pakistan, Mongolia etc. Located in Wuxi, near Shanghai, the biggest port city of China, we are provided with convenient transportations of any kind, by land, sea or air, which will greatly reduce your transportation cost. To meet the clients' different demands, we can provide all kinds of geological drilling tools, such as impregnated diamond bits, diamond core bits (synthetic natural), reaming shells, PDC bits, core barrels, drill rods. If you need them, please contact us.
Related products
Casing Shoe
The casing shoe bits (rod shoes bits) are designed to drill in casings or rods in difficult over burden material to ...

PDC Bits
Description: Fast penetration, strong abrasion resistance. It has good performance for various rock ...