Wuxi Geotec Geological Equipment Co.,Ltd.
No.113,Jiao Shan Road,Yangjian Machinery Industrial Park, Xishan, Wuxi, Jiangsu, China
Tel:+86-510-88552380
Fax:+86-510-88552380
E-mail:info@coredrillchina.com
Website:
www.coredrillchina.com
Description
Our fluted reamers are designed with a robust thru-shaft design and heat treated. They are made from cast-alloy steel for durability. This kind of HDD back reamer is suitable for rugged ground conditions ranging from hard soil to strong-mantle rock. Its size varies from Ф200 to Ф1800. In addition to this type of drill reamer, Geotec Geological Equipment is also capable of supplying ripper reamer, barrel reamer and fly cutter reamer or winged reamer.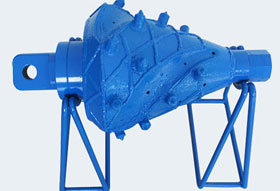 Fluted Reamer
Features of Fluted Reamer
1. There are some connection modes for this type of HDD back reamer.
1) Connection with drill rod: a. Octagonal connection; b. Direct connection with drill rod
2) Connection with pipe: With or without swivel
2. 30 degree tapered body for highly effective cutting and compaction
3. Available with a range of threads and back-end connections
4. Forward and rear facing jets with replaceable jet nozzles
5. Fluted body for effective displacement of cuttings
Established in 1980s, Wuxi Geotec Geological Equipment Co., Ltd. specializes in producing fluted reamers or HDD back reamers, drill rods, diamond drill bits, core barrels, drill rigs, and other drilling tools. Through more than 20 years' production experience and marketing experience, we have gained the recognition of a large number of clients both home and abroad. Our products have been widely exported to America, United Kingdom, France, Canada, Australia, New Zealand, Indonesia, India, Russia, Malaysia, Thailand, Mongolia, Pakistan, etc. If you have interest in our fluted reamers or HDD back reamers, please feel free to contact us. We are looking forward to cooperating with you.

Related products
XY-8 Core Drill Machine
The XY-8 core drill machine installs sub-surface fabrications, such as underground utilities, tunnels or wells ...

YDX-6 Core Drilling Rig
The YDX-6 core drilling rigs are reasonable in design, excellent in performance, easy for operation ...