Wuxi Geotec Geological Equipment Co.,Ltd.
No.113,Jiao Shan Road,Yangjian Machinery Industrial Park, Xishan, Wuxi, Jiangsu, China
Tel:+86-510-88552380
Fax:+86-510-88552380
E-mail:info@coredrillchina.com
Website:
www.coredrillchina.com
Introduction
Fly cutter reamers are used to increase the diameter of the hole in alluvial formations. The winged reamer is ideal for mixed ground conditions like hard soil and strong-mantle rock. Large openings allow cobbles to pass with great mixing action.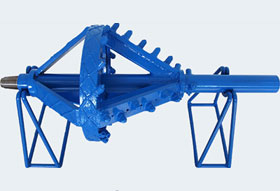 Fly Cutter Reamer
Features of Fly Cutter Reamer
1. Available sizes are from φ200 to φ1800. Any size is available upon request.
2. Our winged reamers have carbide-tipped teeth for better and efficient cutting performance.
3. This kind of trenchless tool is fabricated from heat treated alloy steel for strength and durability.
4. Fly cutter reamers are featured with three long tapered wings, offset cutters, multiple fluid ports, and three packing and stabilizing ring segments.
5. There are some connection modes for this winged reamer.
1) Connection with drill rod: a. Octagonal connection; b. Direct connection with drill rod
2) Connection with pipe: With or without swivel
Wuxi Geotec Geological Equipment Co., Ltd. is a professional manufacturer and supplier of fly cutter reamers in China. Through more than 20 years' production experience and marketing experience, we have gained the recognition of a large number of clients both home and abroad. In addition to this winged reamer, our company also supplies other geological drilling tools, such as diamond core bits, core barrels, rod taps, and so on.
Located in Wuxi, near Shanghai, the biggest port city of China, we enjoy convenient transportations of any kind, by land, sea or air, which will greatly reduce your transportation cost. Our fly cutter reamers have been widely exported to America, United Kingdom, France, Canada, Australia, New Zealand, Indonesia, India, Russia, Malaysia, Thailand, Mongolia, Pakistan, etc. If you are interested in our winged reamers, please contact us. We are looking forward to cooperating with you.

Related products
XY-8 Core Drill Machine
The XY-8 core drill machine installs sub-surface fabrications, such as underground utilities, tunnels or wells ...

YDX-6 Core Drilling Rig
The YDX-6 core drilling rigs are reasonable in design, excellent in performance, easy for operation ...