Wuxi Geotec Geological Equipment Co.,Ltd.
No.113,Jiao Shan Road,Yangjian Machinery Industrial Park, Xishan, Wuxi, Jiangsu, China
Tel:+86-510-88552380
Fax:+86-510-88552380
E-mail:info@coredrillchina.com
Website:
www.coredrillchina.com
Description
Ripper reamer is designed for high mixing and pumping action in sticky clay ground conditions. It is quite suitable for soft soil. Carbide cutters are precisely placed to provide smooth even cutting action. From sand to granite, Geotec Geological Equipment can offer a wide range of HDD back reamers for directional drilling, so you can maximize productivity in the hole no matter what the ground conditions are. Besides, we are also able to supply barrel reamer, fluted reamer and winged reamer.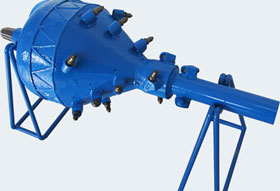 Ripper Reamer
Features of Ripper Reamer
1. We are able to provide HDD back reamers with long service life.
Directional drilling back reamers must combine hardness for long life and toughness for long term durability so that the tool does not fail under the normal back reaming forces.
2. It ensures a superior surface finish to the bored hole
Reaming should only remove small amounts of material in a progressive manner. This ensures a long life for the ripper reamer and a superior surface finish to the bored hole.
3. Geotec Geological Equipment is capable of supplying a wide variety of directional drilling HDD back reamers to suit all your trenchless jobs.
4. There are some connection modes as follows:
1) Connection with drill rod: a. Octagonal connection; b. Direct connection with drill rod
2) Connection with pipe: With or without swivel
Wuxi Geotec Geological Equipment Co., Ltd. is a professional manufacturer and supplier of ripper reamers in China. Through over 20 years' production experience and marketing experience, we have gained the recognition of a large number of clients both home and abroad. In addition to HDD back reamer, our company also supplies other geological drilling tools, such as diamond core bits, core barrels, rod taps, and so on.
Located in Wuxi, near Shanghai, the biggest port city of China, we enjoy convenient transportations of any kind, by land, sea or air, which will greatly reduce your transportation cost. Our ripper reamers have been widely exported to America, United Kingdom, France, Canada, Australia, New Zealand, Indonesia, India, Russia, Malaysia, Thailand, Mongolia, Pakistan, etc. If you are interested in our HDD back reamer, please feel free to contact us.
Related products
XY-8 Core Drill Machine
The XY-8 core drill machine installs sub-surface fabrications, such as underground utilities, tunnels or wells ...

YDX-6 Core Drilling Rig
The YDX-6 core drilling rigs are reasonable in design, excellent in performance, easy for operation ...