Drill Collar
4/15/2011 7:24:24 PM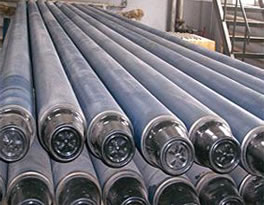 We are a China oil field equipments manufacturer. Drill collar is a heavy, thick-walled tube used between the drill pipe and the bit in the drill stem. It puts weight on the bit in order to make drill pipe in tension. Drill collar can keep drill bit centralized and hole track by large rigidity.

Geotec is one of the leading manufacturers of oilfield equipments such as drill collar, oil PDC bits, oil drill pipes for oil fields. Welcome to choose.
Our products conform to DCDMA, ISO, CDDA, Metric and Chinese standard
Other standards and customer's special requirements are available.
Our delivery time is very short.
Our faith --- Quality is the First!
Established in 1989, Wuxi Geotec Geological Equipment Co., Ltd. specializes in producing diamond tools, core drills, drill collar, core drill rods, wireline core drill parts, drill rigs, oil field equipment, and other drilling tools.
As a geological drilling products manufacturer with 20 years of experience in China, we can provide high-quality and efficient drilling tools for our customers in America, United Kingdom, France, Canada, Australia, New Zealand, Philippines, Indonesia, India, Chile, Brazil, Russia, Algeria, Morocco, Malaysia, Thailand, Pakistan, Mongolia etc. Our products have received quality management system certificate, ISO9001:2000 authentication for quality management system, and member certificate of China mining association, etc.
Besides, our diamond tools, drill collar, core drills and core drill rod and so on can be supplied at low price since we are located in the most developed industrial areas in the Yangtze river delta. So please contact us if you are in need of any of our products.
Drill Collar
Related products