Diamond Tools
4/15/2011 7:01:40 PM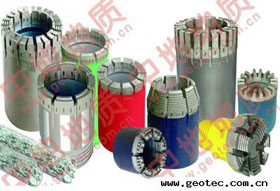 Wuxi Geotec Geological Equipment Co., Ltd. is a professional diamond tool manufacturer and supplier in China, experienced in producing diamond tool, core drill, core drill rod, drill rig and oil field equipment, etc. They have passed ISO9001:2000 quality management system certification.
With 20 years of experience, we can provide many kinds of high-quality diamond tools, such as impregnated diamond bit, reaming shell, casing shoe, surface set diamond bit, PDC drilling bit and so on. They are widely used for cutting non-ferrous materials, and drilling broken formation rocks, etc. Our products are sold to America, France, Russia, Spain, and Arabia, and we would like to expand our business line to more regions.
Besides, our geographic advantage enables us to provide high-quality diamond tools for you at reduced price.
So if you intend to buy any of our diamond tools, please let us know.

Diamond Tools, our extensive product range comes with free technical support and comprehensive sales advice:Diamond Tools, Diamond Blades, Diamond Wire, Stone Blades, Arix Blades, Concrete Cutting Equipment, Brick Saws, Paver and Block Saws, Tile Saws, Road Saws, Bench Saws, Floor Saws, Hand Saws, Grinding Discs, Grinding Machines, Polishing Machines and Floor Preparation, Drilling Equipment, Core Bits, Cut Quicks, Premium Cup Wheels, Hydraulic Equipment, Shears and Cutters, Industrial Wet/ Dry Vacuum Cleaners, Saw accessories, Diamond Drill Bits, Drill Rigs.
Diamond Tools
Related products