Core Drill Rod
4/15/2011 7:13:26 PM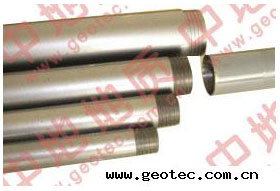 Located in Wuxi, Jiangsu Province, Wuxi Geotec Geological Equipment Co., Ltd. is a specialized core drill rod manufacturer in China, mainly providing various kinds of drilling products. Our core drill rods which include drill rod and casing pipe are widely used in mineral, metallurgy, mining, oil drilling industries and so on. They are quite popular among our customers in America, Russia, France, Spain, France and other countries. And our core drill rod, drill rig, core drill, diamond tool and other products have received Quality Management System Certificate, ISO9001:2000 Authentication for quality management system, and member certificate of China Mining Association, etc.
So you can trust the quality of our products. Moreover, we are near to the ports, which will definitely reduce your transportation cost.
If you want to learn more information, please contact us.

Our drill rods are suitable to drill deep holes. They are widely used in geological and mineral, metallurgy, mining, oil drilling industries and so on. From drillers' feedback, our rods have drilled up to 2000 meters depth. Geotec has many years experience in manufacturing coring drill rod, we try to provide you the most cost-efficient products.
Features of Drill Rod
1) Made of high quality alloy steel.
2) All our drill rods are heat-treated.
3) Reasonable structure, reliable performance and high using efficiency.
4) Good concentricity, high precision and long service life.
Available size for Drill Rod
Wireline Series: B,N,H,P
"WJ" Design: AWJ,BWJ,NWJ,KWJ,HWJ
"W" Design: RW,EW,AW,BW,NW,HW
Metric Series: 33,42,50
Core Drill Rod
Related products