Core Drills
4/15/2011 7:09:48 PM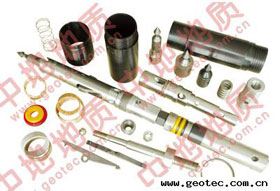 As a core drill manufacturer and supplier in China, Wuxi Geotec Geological Equipment Co., Ltd. can produce core barrels and overshot for use in mineral, metallurgy, mining, oil drilling, and hydrology industries.
Aside from core drills, we also supply core drill rod, drill rig, diamond tool, oil field equipment and others, which have been certified by ISO9001:2000 and are exported to America, France, Spain, Russia, and Arabia, etc. 20 years of experience and superior geographical location enable us to provide durable and efficient core drills for our customers.
We believe that you will be satisfied with our products and service.

Our core barrels include wireline (Q series), T2-101, LTK60 core barrels. We also provide core barrel parts such as core lifters, core lifter cases and locking couplings. This kind of core drill strictly complies with the international standards. Core drilling tools can lift core from drill rods. During this process, picking up coring system is not necessary. Core barrel assembly, overshot assembly, drill rods, holding dog, hoisting plug, circle wrench are all belong to drill tools.

Features of Core Barrels
1) High penetration rate and high drilling efficiency.
2) High core recovery rate.
3) Long bit life and lower labor intensity.
4) Adopt abrasion resistant material.
Core Drills
Related products